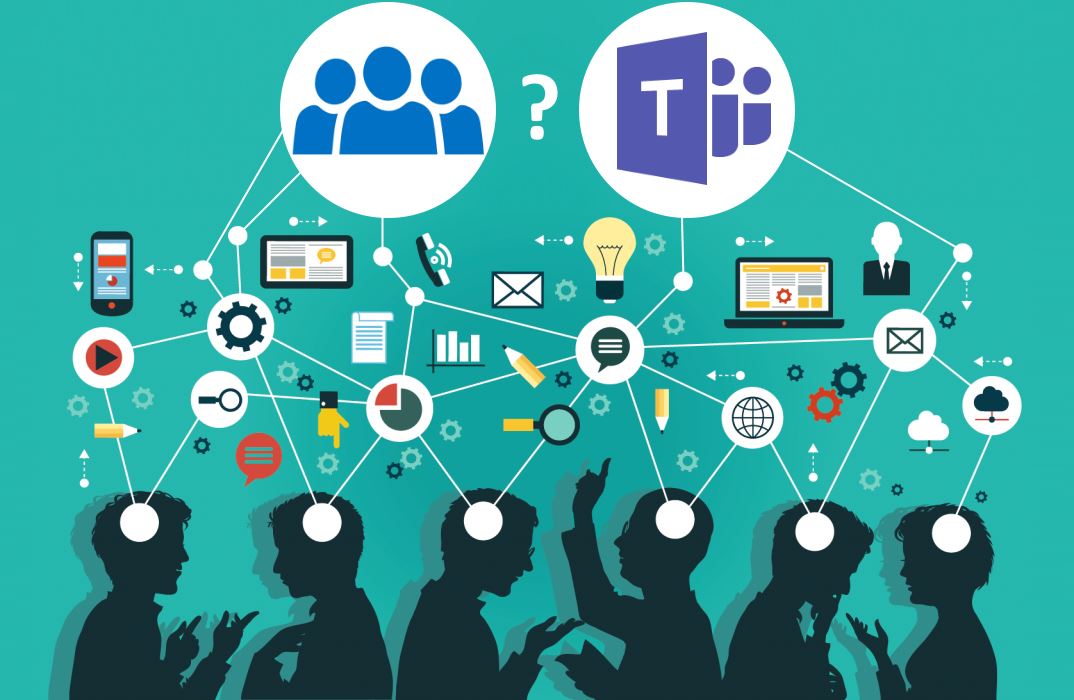 Office 365 Groups vs Microsoft Teams, comparision and misconceptions
Office 365 Groups are a quite old concept. They were first introduced somewhere in 2014, but since then the concept developed, from a simple Shared Mailbox, into a tool dedicated for collaboration between employees. Then, in November 2016 Microsoft Teams went public what… brought a lot of confusion on users' faces. I guess this confusion is still present.
I this post I am not trying to explain when to use what, but to compare those two products to show you their capabilities and… to help you answer on your own, which tool to use when.
Office 365 Groups
I think the most important thing here is to understand, what is the architecture of the entire solution. Office 365 Groups is a major concept of permissions and in my opinion – a future of permissions' handling in Office 365 and SharePoint Online too. Groups are transversal = are above specific apps, so once being added to a Group grants access permissions to a wide range of Office 365 applications. Moreover, the external users (from the outside of the organization) can be added to a Group what allows them to collaborate together with regular employees. Be aware, that not every Office 365 app respects external sharing (ex. Stream)!
To be more precised, the Office 365 Groups are an object built in Azure AD. They are meant to deliver teams working together a single point where their membership is managed, allowing them access to a variety of apps:

In this world Microsoft Teams are just one from many apps, that utilizes Office 365 Groups, as the object for managing permissions: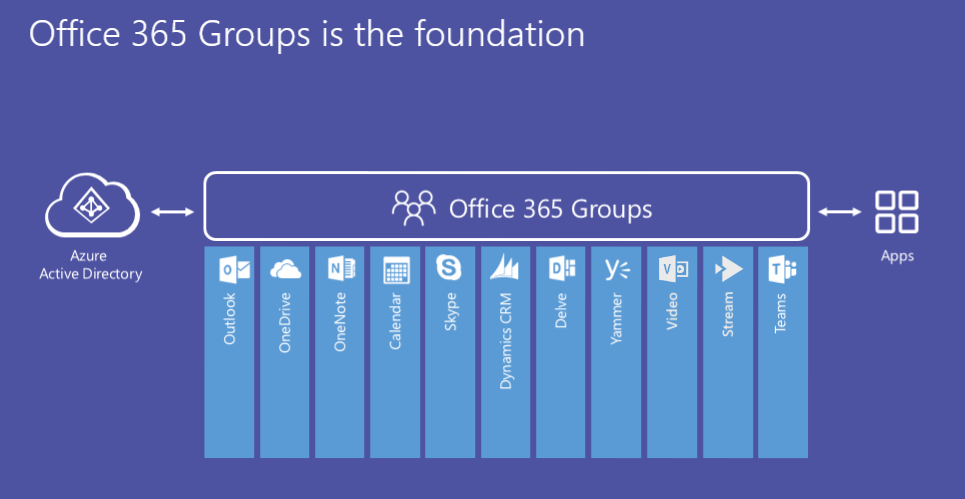 It is true, however, that before Microsoft Teams arrived a collaboration-app concept around Office 365 Group was indeed built, that involved a space for communication (Exchange, OneNote), project planning (Planner), file sharing and collaboration (SharePoint and OneDrive).
Office 365 Groups vs Microsoft Teams
Once again: Office 365 Group itself is not an application, however the business concept of its usage, allows members of a Group to be given an access to a set of applications, that together creates a neat collaboration suite. Having that in mind I tried to gather the most important and common features and aspects of both solutions. Then, I gave them marks:
"-" means that such thing does not exists;
scale from 1 "+" to 3 "+" is my subjective grade of how good specific thing is done for a given solution. I also added remarks trying to explain the grade.
Office 365 Group collaboration concept
Microsoft Teams
Remarks
Accessibility
Public inside
+++
+++
Any user from a company can join without an invitation.
Private inside
+++
+++
Any user from a company can but only if is invitated by the owner.
Invite guests from outside
++
++
Only for users having Microsoft LiveID or corporate accounts.
Mobile access
++
+++
RWD interface is present by default
Mobile app
++
+++
Android, iOS, Windows 10 Mobile. The Teams app is more matured and has more functionalities, whereas the Groups brings just the basic browsing of content, calendar and conversations.
Desktop app
-
+++
Modern, elegant and practical app is available for Microsoft Teams, covering all functionalities.
Features
File storage
+
+++
Groups:
Use SharePoint (OD4B) storage. When viewed from the Team Site perspective - structure of folders is kept. When from the Outlook "Files" tab all are listed in-line.

Teams:


Teams create a group by default, to store files, but other "cloud storage" providers are available: Google Drive, Box, ShareFile and Dropbox
Files used by Teams are stored in OD4B.

Notes
+++
+++
Provided by OneNote
Chat
++
+++
Groups:


By a dedicated Noteboard list type inside SharePoint, or
By a Conversations inside Outlook


Teams:


Built-in module for conversations for each Channel
Built-in chat for discussions with other Teams users or Skype active users

Calendar
++
+++
Groups:


By a dedicated Calendar list type inside SharePoint, or
By a Calendar inside Outlook - shared


Teams:
Built-in module for Meetings showing items using Group calendar data from Outlook
Project management, Tasks management
+
+++
Groups:


By a dedicated Project subsite or any other available OOTB SharePoint app, like tasks list
By the Planner separate access


Teams:


By the Planner built-in view, for each Channel
By using 3rd party apps: Wrike, Trello, Asana, Visual Studio, Smartsheet, PowerBI

Custom apps, Extensibility
++
+++
Groups:


All apps available for SharePoint Online in Store,
Custom SharePoint apps,
Connectors in Outlook, allowing members receiving notifications once a specific event occurs in the connected app (like a new post on Twitter, new record in CRM).


Teams:


Dedicated apps to be added as tabs,
By Bots, Connectors (the same as Groups have)

Polls, Surveys, Feedback
+
+++
Groups:
Survey list in SharePoint

Teams:
By using 3rd party apps: Polly, Empense, Zenefits
Channels
-
+++
Teams has Channels. A Channel is mostly related to the goal - they should be used to allow better work organization. One can be used for projects, other for ongoing collaboration - this is just a category of work and each Channel is unique.
Multimedia
+++
++
Groups:
Can use new Office 365 Stream and Video web parts on SharePoint Team Site's homepage, also can host and display multimedia from Libraries. Groups is also intergated with Office 365 Video.

Teams:


Can use Stream or Youtube as multimedia content providers.
It can also use available storage for hosting multimedia files as a regular files.

Activity feed
-
+++
Teams has the activity feed, showing all mentions, replies and notifications for the logged in user.
Automation
++
++
Groups:


When in the SharePoint Team Site a regular workflows with Microsoft Flow can be created, as well as apps in PowerApps. However this will only be related to SPO.
Flow can also trigger itself for actions that occur in Office 365 Outlook: related to e-mails and events. This allows to create automation ex. to create a planner task each time a specific e-mail arrives etc...


Teams:


There are no actions in Flow that allow workflow to be triggered by Teams-related event, however there are 4 that works on Teams (create channel, post message, etc..).
On the other hand it is possible to add a complete business app written in PowerApps and Flow as a tab in Channel.
What is also important - Teams can be extended with Bots, so it is possible to create a chatbot that helps team members handling specific cases! 🙂

User Experience
Navigation
+
+++
Groups:
In my opinion is not that good - almost every element from the navigation is opened as a different app, that confuses, but this is understandable though as the Group itself is an Azure AD object, allowing users access to different apps.

Teams:
Very good. App is consitent, all additional apps like Planner, Conversation or 3rd party apps are displayed within Teams layout, what gives a smooth experience and ease usage.
Interface
+
+++
Groups:
Only the SharePoint Team Site homepage uses modern site interface, the other layouts of a SharePoint are just a regular SP look&feel. Then each additional app opens itself within its own windows and look&feel.

Teams:
Modern, clear and self-describing interface, giving a consistent look&feel for each available feature and app.
I also like the toast messages arriving every time someone sends a message to me.
Conclusion
So what are Groups vs Teams? The way I find it, is that the collaboration concept around Groups is a dedicated tool for groups of people, not necessarily having a common goal, giving them apps: a space with shared files, calendar, mailing group, space for conversation (mailing list), allowing as well to invite external users. The concept itself originates from a mailing/ distribution list and is the Outlook-based app. This is a perfect tool for a department – it is given a shared mailbox and a shared calendar, space for collaboration, etc… where other employees can be invited.
On the other hand Teams is a discussion(chat)-based tool, focused on a team having a common, named goal that wants to accomplish. Team can has many goals, that are represented by Channels (category of work), and is given a set of tools for collaboration and productivity, supporting them in task and project management. It can also be handy for internal processes management, where employee requests something and support on the other end handles it, like the HelpDesk or HR processes.
And so…?
In my opinion both solution are the core products for creating a successful Digital Workplace using Office 365 tools. Both give users features and tools for easier collaboration, allowing fast sharing of files, co-authoring of documents and content, tools for communication and planning. I like more Teams personally, as this application is just easier to use and more consistent thus easier in adoption.
Having in mind, that each Channel in a Teams has as well an Office 365 Group created underneath, this product gives all the benefits from Groups elevating them with a mature collaboration idea, productivity tools and features. In my opinion this is really a number one tool for Digital Workplace on the market, being really free for E3 and E5 subscriptions!
Read more
Just a couple of other blogs' posts regarding the topic: