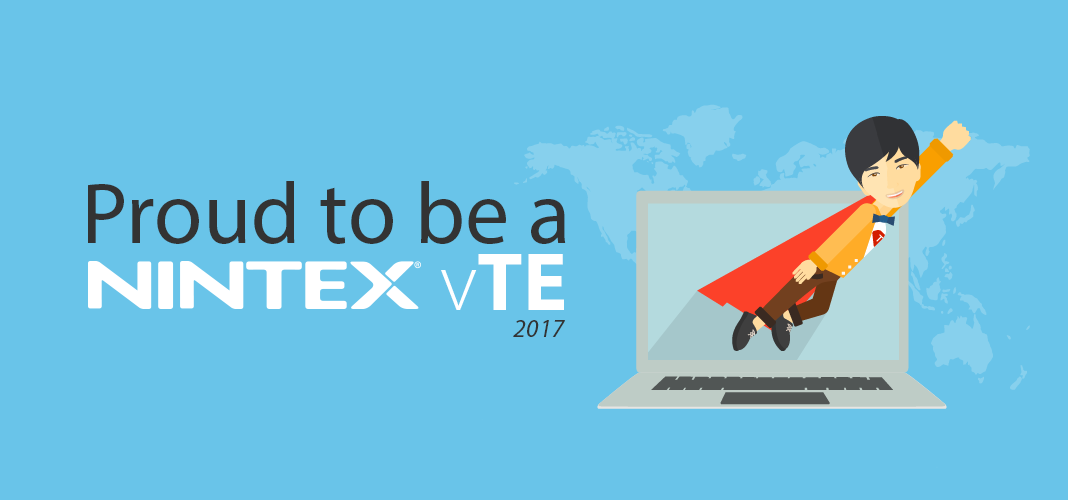 Keep calm and ask a Nintex vTE – virtual Technical Evangelist!
I'm proud to announce that I have been honored as a Nintex vTE! I've became 1 of 70 workflow professionals from the global network of Nintex partners!
Who is Nintex vTE?

There's nothing virtual about the Nintex virtual Technical Evangelist (vTE) program. It's a very real part of the process of getting automation into customers' hands. Virtual Technical Evangelists literally evangelize Nintex products, represent the company to customers, and contribute to the Nintex Connect community, where people turn to find answers to questions about Nintex products.
We work for Nintex partners. I currently work with Atos Polska, as Senior Consultant and expert for Microsoft technologies especially SharePoint and Office 365. I find being a vTE as an opportunity – to share my knowledge, to educate, to share passion and assist users in working with Nintex products.
As a vTE I'm going to continuously learn new things that are developed in Nintex products, I will share my knowledge through posts on this blog, via my Twitter account: @TomaszPoszytek as well as through meetings, events and conferences (possibly as a speaker one day). Right now you can become a member of the first Polish Nintex User Group (NUG Poland) that I am running by signing here. I will also assist Nintex in their presentations for clients as a technical expert so it is possible you will meet me one day in your premises.
How does the vTE program work?
The vTE program kicked off as a pilot at Microsoft Ignite in 2015.  It's an invite-only program vetted by Technical Evangelists. vTEs are required to stay on the cutting edge, and demonstrate their continued proficiency by contributing to Nintex Connect, being available for conferences and other events like SharePoint Saturdays and taking part in pre-sales demos and discussions.
If a vTE moves to a different partner company, that person retains the designation. At the moment, vTEs must work for Nintex partners. While they need to have technical knowledge, they don't have to be a developer.
In January, the program will start fresh, with vTEs serving 12-month roles and up for renewal each year – similar to how the Microsoft MVP program works, says Dan Stoll, Nintex Manager – Technical Product Marketing & Evangelism.
Technical Evangelists locally manage the virtual Technical Evangelists in their region.
Read more about the program here.