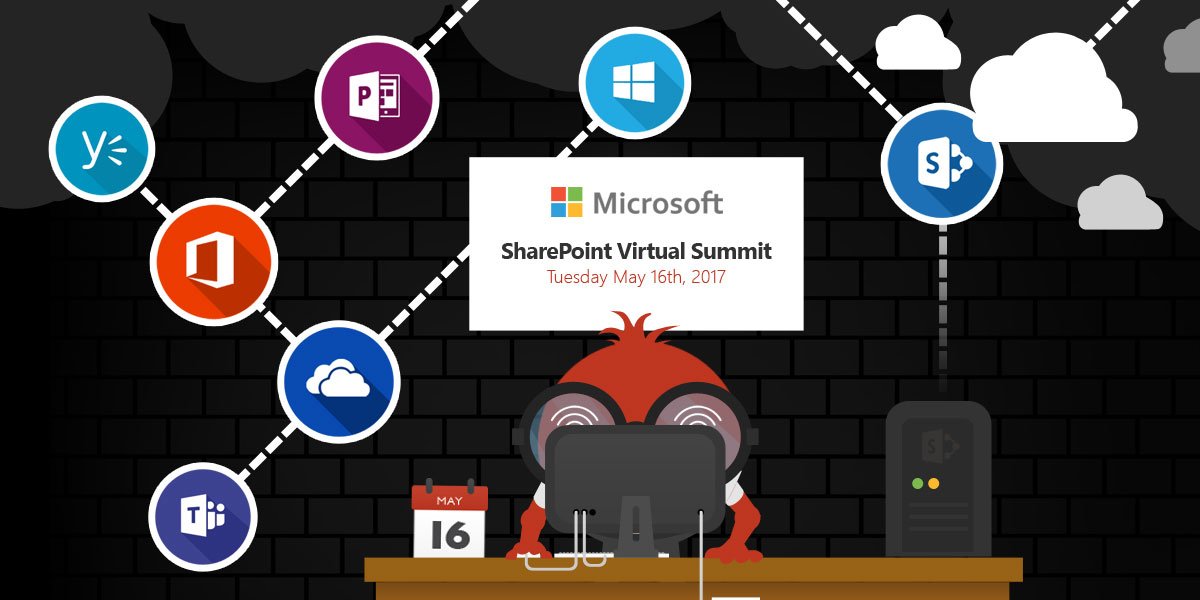 Office 365 – Roadmap for 2017
Recently ended video-conference "SharePoint Virtual Summit" (https://resources.office.com/ww-landing-sharepoint-virtual-summit-2017) confirmed rumors regarding upcoming changes and direction of the development Microsoft is planning for Office 365, in terms of "Digital Workplace" – a space dedicated for the employees, providing them with all necessary tools to make their work more efficient and comfy.
Microsoft is focusing mostly on the following products in these terms:
In my opinion this is where the most interesting changes are foreseen.
SharePoint (not only Online)
It is said some changes should start rolling out this summer, some later during Q3 and Q4. What's coming up?
Communication Sites,
New layouts for Team Sites and Communication Sites,
It will be possible to integrate Office Groups with Team Sites via dedicated web parts, 
Finally: seamless integration of PowerApps with lists and libraries,
Integrated approval flows, also from e-mail body,
SharePoint Framework available also for SharePoint 2016 (Feature Pack 2),
Enhanced machine learning delivering more precise and personalized search results,
Rebuilt and upgraded SharePoint Admin Panel.
Communication Sites
At a glance they look very similar to already known, modern Team Sites, which are rolling out to our tenants. Purpose of this site is to provide content authors with a tool, to create attractive and engaging pages to communicate information to the employees. In contradiction to Team Sites, Communication Site is meant to provide information to the user, not engaging him in its creation. In my opinion this is a regular "Intranet" functionality: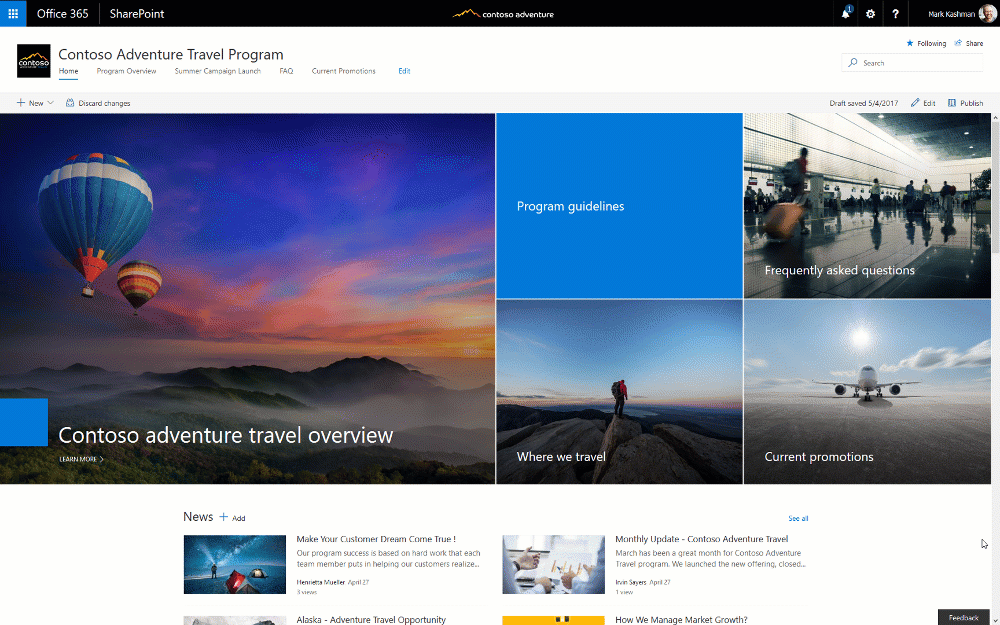 Communication Sites are equipped with a new, light design. Content is authored not in a way known from the old publishing pages, but in a way known from the modern Team Sites. Also, as the modern Team Sites, the Communication Sites are fully responsive (RWD), they can be displayed on almost every mobile device and what is more cool is the fact, that an article can be created from a mobile device too! And last, but not least, something we were all waiting for – it will be possible to create not only a single columned page, but there is going to be a set of available 2, 3-column layouts, like it was possible for "Wiki Pages":
On top of that a pack of new web parts will be available, dedicated to use on "modern pages": new event and calendar web part, graphical tiles showing "promoted" articles (Hero), modern user profile details web part and as well – stream web part allowing to browse and display videos from Microsoft Stream (Office 365 Video is going to be replaced by Stream):

Seamless integration with PowerApps and Flow
When Microsoft confirmed last year, that the stories of Infopath and SPD are going to end with the SharePoint 2016, people started asking questions, what is there in the offer, to replace them. The answer was: Microsoft Flow (for building workflows) and PowerApps (for creating forms). The point was, that neither Flow nor PowerApps were ready to take on that mission. PowerApps was allowing to create forms only next to SharePoint, moreover it was suffering from lack of functionality and usability. Flow too – it was hard to create something valuable.
However, beginning this summer, PowerApps are said to be fully integrated with modern lists and modern libraries in SPO. It will be possible to customize New, Edit and Display forms using this tool:

Later this year Microsoft will introduce simple approval flows, integrated with libraries and lists as well. A new cool thing will be the possibility to express approval from the e-mail, by clicking a link (feature is already well known to all Nintex users, as "Lazy Approvals", soon replaced by "Express Approval"):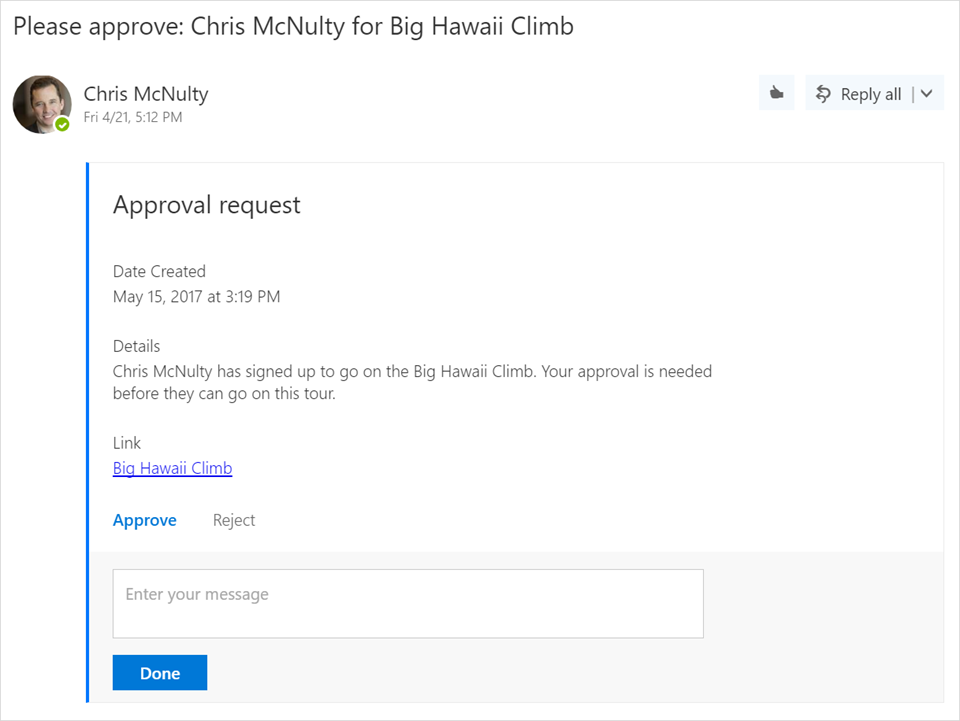 There is also integration with Flow foreseen. It will be possible to launch specific workflow right from the ribbon: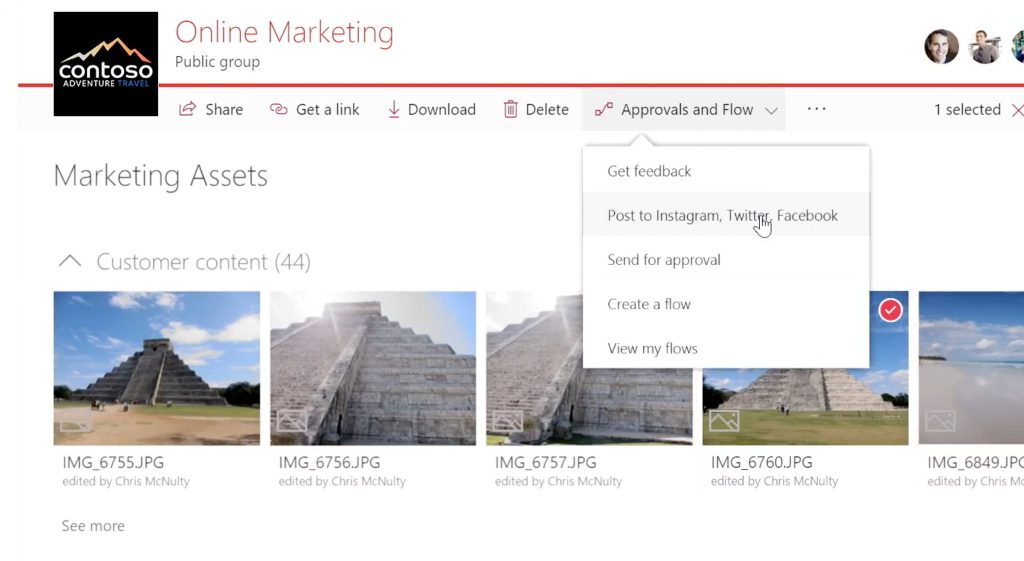 I had this feeling, that this way Microsoft could be trying to take leadership in the field of workflows and forms, leaving such companies as Nintex and K2 behind. One participant had also this feeling and asked a question (during Q&A), for which the answer dispelled that fears:
Thomas Burke: Will the improvements to forms via PowerApps do the same sorts of things that apps like K2 and Nintex can (e.g., multi-record form fields, hooking into services, no-code forms, etc.)?
05/16/2017 1:20PM

Chris McNulty: Yes – but worth noting that Nintex and K2 among others are prime enterprise partners for us, helping solve problems and scales that go well beyond PowerApps and Flow's capabilities. There are many simple scenarios that people have used ISV solutions for, and of course they can also be done in PowerApps and Flow – but they likely never needed the enhanced power of our partner solutions.
05/16/2017 1:47PM
Team Sites, Microsoft Teams, Office Groups
I will write about it later, but it's forth to mention twice: Microsoft is about to release a set of web parts to allow integration of a regular Team Site with Office Group, so that way functionalities like Planner, Group calendar and discussions will available right from a site.
Another integration planned between Microsoft Teams and SharePoint. There will be a possibility to add regular, SharePoint pages into Microsoft Teams, so that the will be available in the navigation.
OneDrive
Announced changes concern:
"Files On-Demand" feature
File sharing right from Windows Explorer
More administrative control over shared files
Files On-Demand
In my opinion this is one of the most desired and needed features. I personally don't like the idea to fully synchronize folders from OneDrive with my local disc, mainly because I don't have much free space locally. Moreover I mainly use only a small number of this files, so really having them all "offline" is just a waste of a space. BUT! With this function it will be finally possible, to download only the file, that is really needed. Cool, isn't it? 🙂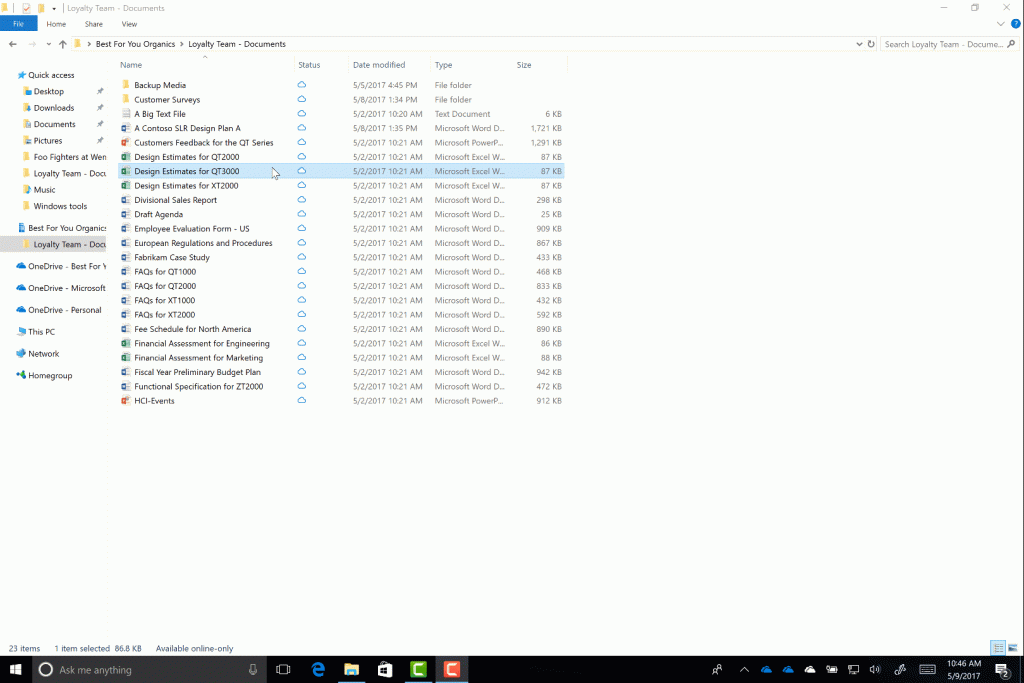 File sharing in Windows Explorer
Fast and comfy sharing of a specific file will be available as a new position under the file menu. Oh yes – also for Mac OS (Finder). What is bothering me is a question, why Microsoft haven't added this feature for such a long time, whereas all competitors (Dropbox, Google Drive) have it since the beginning?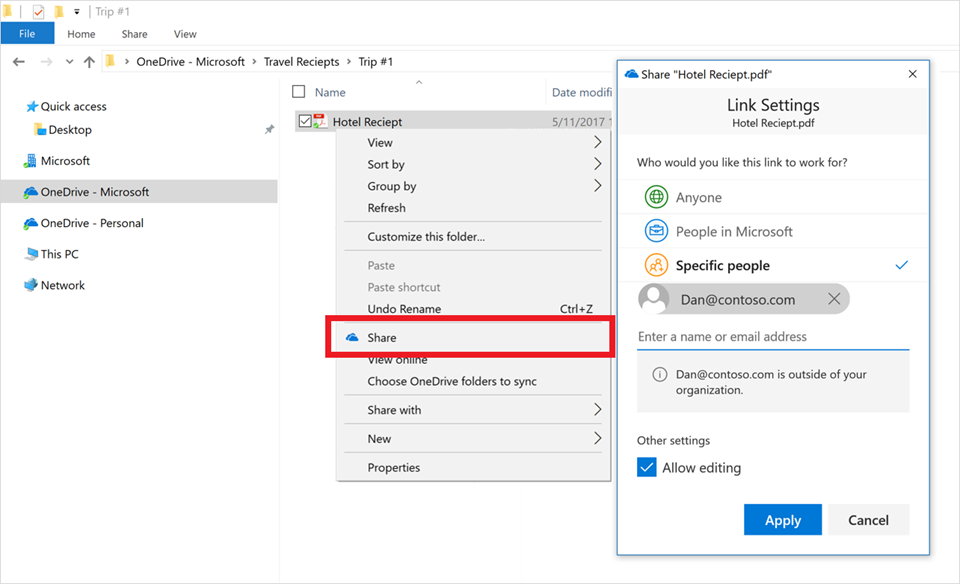 Microsoft Teams, Yammer, Office Groups
I have already mentioned that the most important innovation is going to be the seamless integration between SharePoint and Office Groups, thanks to the dedicated web parts. Team Sites will be enhanced by the information coming from Groups, providing a smooth, uninterrupted experience: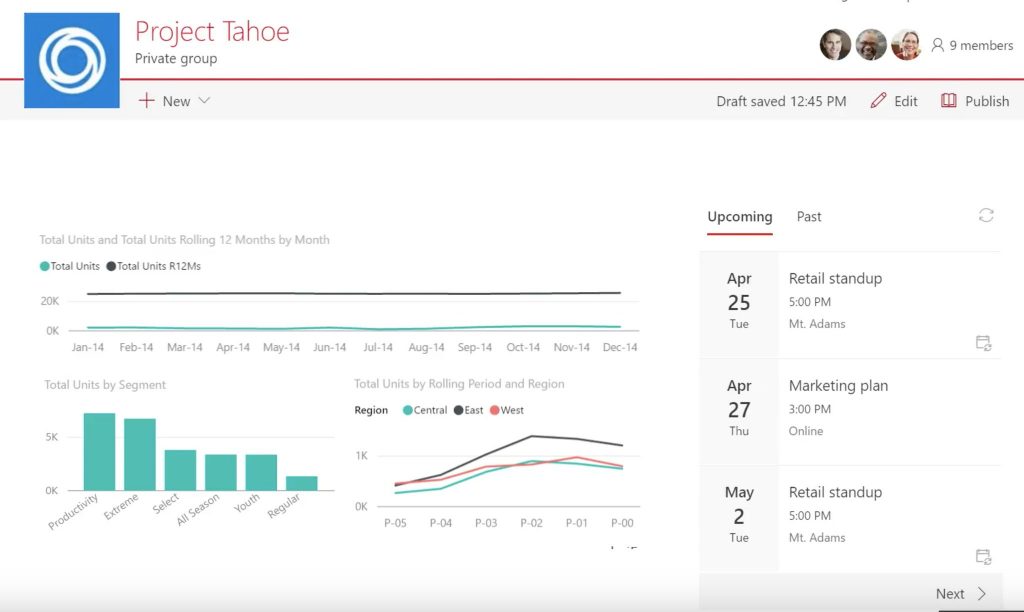 What I also like is the fact, that the Office Goups permission model is said to be integrated with the old, SharePoint one. So next to regular SharePoint groups and permissions admins will be able to grant access using Office Groups. Maybe one day the regular permissions will be decommissioned?
The integration between Microsoft Teams and SharePoint will allow to add and present regular, SharePoint sites inside the Team channel, in tabs: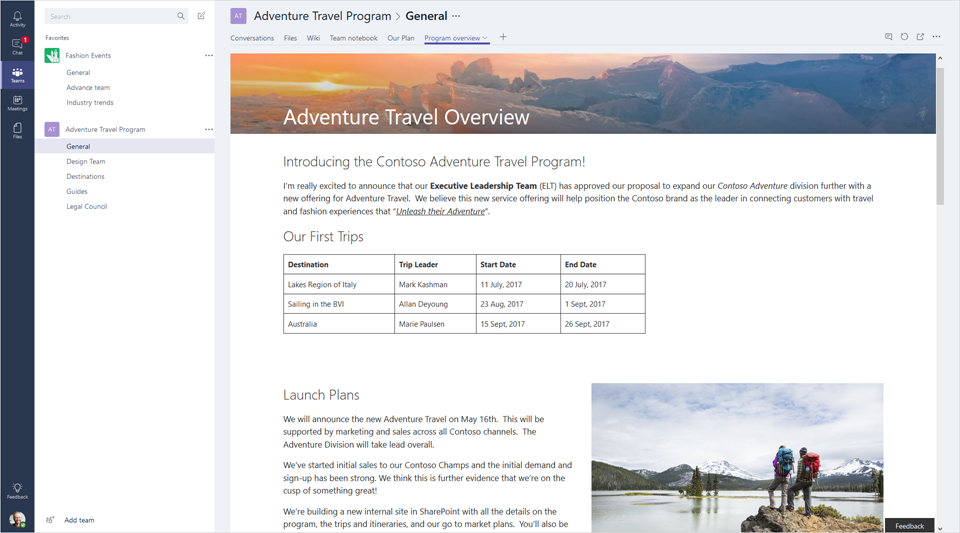 Another feature for the Team Sites: templates. It will be possible to change the look&feel of a Team Site by selecting one, from the available color schemes and templates (allowed by administrator). In my opinion this is a very nice feature that will give teams the possibility to somehow "personalize" their working space: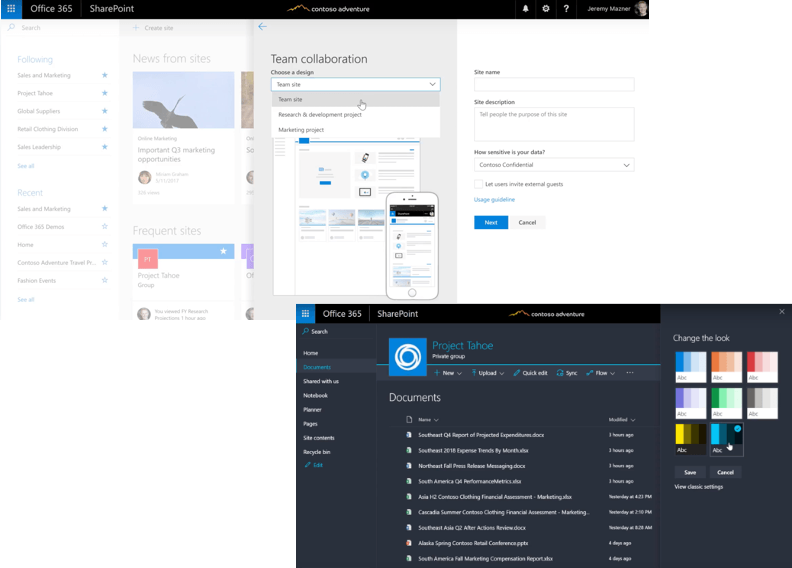 What, when?
Some changes are planned for the summer. Some for the turn fo Q2 and Q3. Lastly, some will arrive together with the Feature Pack 2:
ALL new #roadmap slides from #SPSummit. @SharePoint @OneDrive @Yammer #harness #inform #share #transform pic.twitter.com/pWnSQduGlM

— Microsoft SharePoint (@SharePoint) May 16, 2017
Summit proceedings
Official announcements:
The Office Mechanics videos about the topics:
Blogs: 
https://techcommunity.microsoft.com/t5/SharePoint-Blog/bg-p/SPBlog
https://en.share-gate.com/blog/new-mature-sharepoint-2017-roadmap
Twitter:
https://twitter.com/hashtag/SPSummit?src=hash
Digital Workplace
Watching (and being part of it) how often and intensively is Microsoft developing and deploying new apps and features to the Office 365 (are you familiar with this post: https://en.share-gate.com/blog/what-is-in-office-365?), I have no doubts, that this is where the standards and trends for the "Digital Workplace" are set. For years Microsoft is proclaiming such concepts as BoD (Bring your own device), working from home, or "hot desks", together with a rich range of applications dedicated to make the work done from whatever place on Earth (where the Internet connection is of course) makes this company a true leader in that field. It is even more significant having in mind the fact, that now over 250 thousand companies, with almost 85% from Fortune 500, is having almost 60% of seats in the cloud. Is your company ready to make that step as well? 🙂