European Collaboration Summit 2017 – Recap
This year's Collaboration Summit in Zagreb has just ended, but comments related to the event are still showing on Twitter (look yourself here). I was present at the event for the first time and even though, that many of the news that were presented had already been announced during the SP Virtual Summit (here), I found it very worth to be there. Presenters were making many "deep dives" into the new features being ahead of us in Office 365. Especially Dan Holme showed a live demo of how the new Communication Sites and refreshed Team Sites are going to look like and how the content authoring is going to change.
The Agenda
The agenda of the Summit was full of both "business" and "technical" presentations, thus anyone was able to choose the right path to spend full three days:
The first day was dedicated to a full-day workshops. Attendees were able to choose from:
SharePoint 2016 Powerclass for Admins by Spencer Harbar (MVP, MCM, MCA) and Thomas Vochten (MVP),
Modern developer Powerclass by Paolo Pialorsi (MVP, MCM) or
PowerBI Powerclass by John Patrick White (MVP) and Jason Himmelstein (MVP).
I chose PowerBI class and it I spent there really good time being able to get familiar with some cool new features about the PowerBI, ex. the new PowerBI Reporting Services that is soon going to replace SSRS or the new licensing model that will disallow to create publicly accessible reports for free.
The agendas for the Tuesday and Wednesday were as shown below: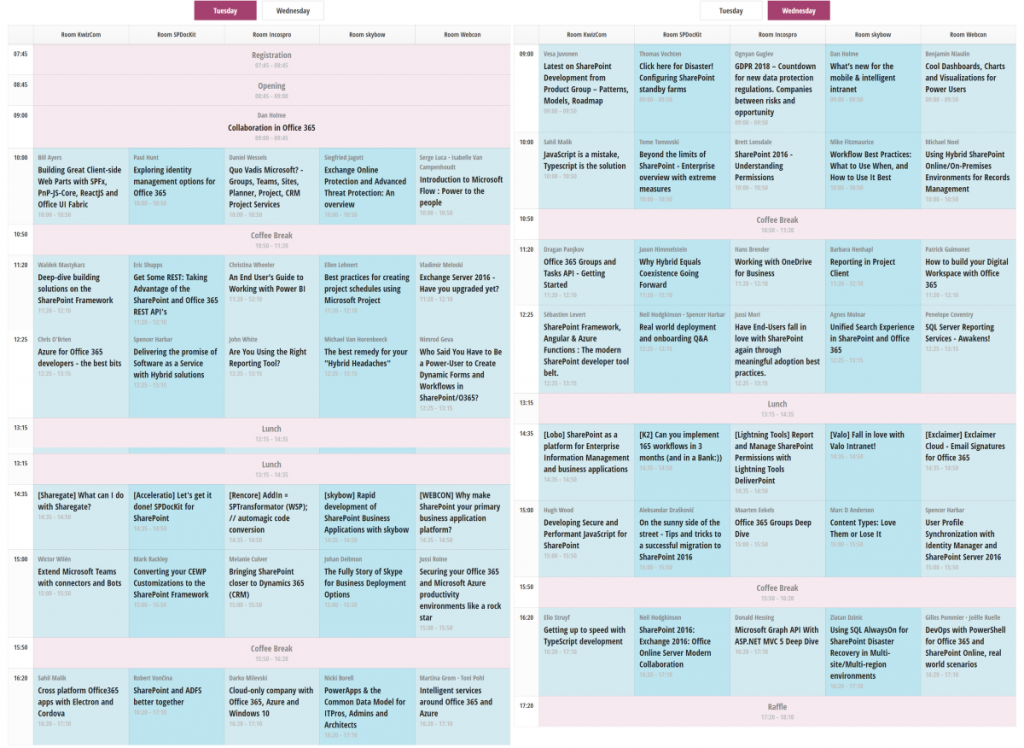 Why was I there?
My main interests, during the Summit, was to get as much information about transforming and using Office 365 and available services as a Digital Workplace as possible. And frankly speaking – I really got what I wanted. From the very beginning, presentation made by Daniel Wessels who showed that even in Dynamics CRM there is a set of functionalities for turning it into such tool (such as Project Service Automation), through presentations of Wictor Wilén about the Microsoft Teams and Bots (and Connectors),
Many trends in #DigitalWorkplace crossing over time in single point @patricg #CollabSummit pic.twitter.com/sGjDdXLD6V

— Tomasz Poszytek (@TomaszPoszytek) May 31, 2017
Patrick Guimonet who was talking directly about building Digital Workplace with Office 365, ending up with Jussi Mori's presentation about user adoptions and Neil Hodgkinson who showed what's ahead in Office Online Server.
About the Summit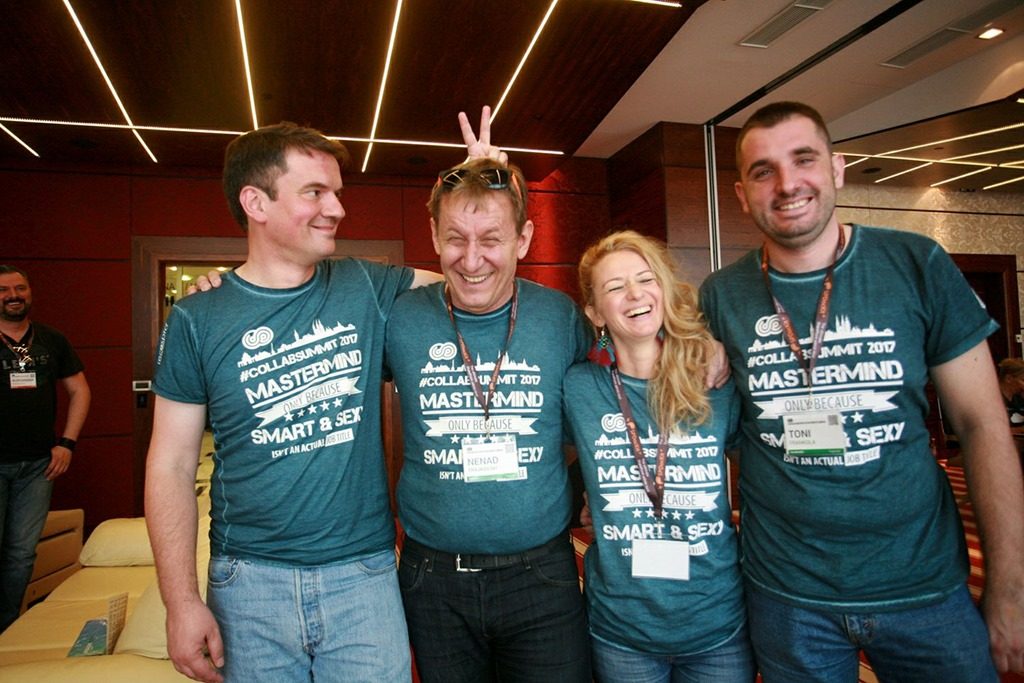 The Summit was again organized by the "Community", but I was really surprised how much you were able to get for paying only 80€.
In that price all was been given a high-speed internet, tasty lunches, coffee breakes, SharePint (well, that is the only thing that could have been better imho), lots of attendees to practice networking and small talks and lots of fun and valuable discussions 😉 And what is also important – the Summit was in sunny and warm Zagreb, a small town, with a really beautiful old town and lots of places to visit.
#CollabSummit Some cool sponsors here. Nice catching up and seeing what everyone is up to and so passionate about. pic.twitter.com/gp6Vbqmzwb

— Tracy van der Schyff (@tracyvds) May 30, 2017
Also, the sponsors area, filled up with stand of the well known companies, was a must-visit stop.
Hey @davyfrench_23 I got u some… #collabsummit https://t.co/DnNuyYX8su pic.twitter.com/7J9tmtpjr4

— Alistair Pugin (@AlistairPugin) May 30, 2017
They had loads of swag 😉 Stickers, flyers, Lego bricks, Benjamin Niaulin likenesses in badges and stickers, and also – Sharegate socks, for which I were hunting for some time 😉
#Prizes #Prizes #Prizes #Prizes #CollabSummit 😵😵😵 pic.twitter.com/lnxDQfQTbc

— Tomasz Poszytek (@TomaszPoszytek) May 31, 2017
Sponsors had also founded many valuable prizes, one of the really most valuable was the European SharePoint Conference full conference pass. 
Summary
The Summit gathered more than 550 Microsoft enthusiasts, both attendees and speakers. There were 46 Microsoft MVPs and other recognizable specialists. Just take a look at the numbers:
The other cool summary is the one prepared by the John Patrick White (MVP) who made a PowerBI dashboard (here) showing the buzz on Twitter around the hash "#CollabSummit". Awesome: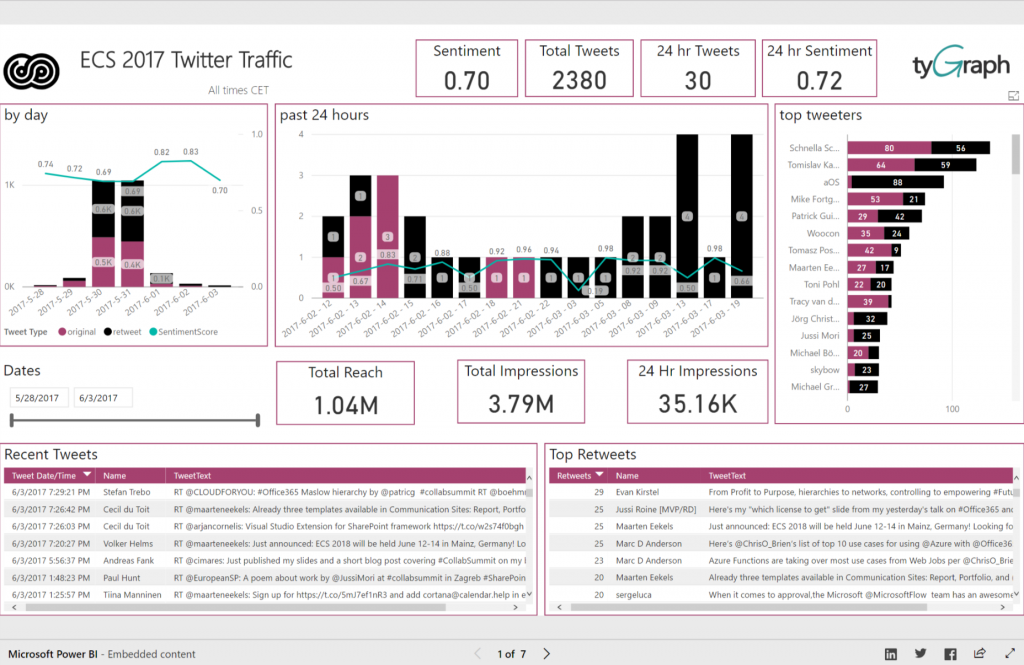 Short summary
In short words – yes. Totally worth to be there. I will certainly attend next year. 
Oh, and the important thing for the next year is, that it will take place not in Croatia anymore, but in (western) Germany. It's official: 12-14 June in Mainz and will be organized together with German SP Community!