Microsoft Stream – what kind of app is that?
Earlier this month (20th of June) Microsoft Stream, the new application in the Office 365 family, became Generally Available. Many users are still in doubt because that is not very clear how this app is positioned to the Office 365 Video actually. The answer however is quite simple – many organizations demand having a secure and trusty storage to keep and stream multimedia files – which are in fact the largest files organizations are working with.
That is not a secret – on-premise architecture, that allows company to host and stream its own multimedia files, making them available for all its employees, both via the desktop computers and mobile devices costs very much. You would need at least a server for multimedia storage and serving, then possibly another one for streaming them, serving also a web server role. Possibly also some sort of a proxy, firewalls and a high speed internet connection. Add mobile app (or RWD layout), electricity costs, and all software licenses costs and you will possibly end-up with a very significant price.
On the other hand you could use YouTube (however not all content you would like to share there). And here the Microsoft Stream arrives. The application can be bought as a standalone service, without the need to buy any from the Enterprise plans (as you need to do if want to use Office 365 Video). Monthly price per user starts from 3$ (= €2.53) and ends up on 5$ (= €4.21, source). And it is "free" for all Enterprise and Education plans (for Business not). 
What is Microsoft Stream?
This is a ready-to-use app built on top of Azure Media Services, using Cognitive Services to recognize faces and Automatic Speech Recognition to automatically build transcript and captions translating sound into text (currently only English and Spanish is supported). Captions are then used by the Deep Search to bring the most appropriate video to what the user is searching for (source).
The other thing I really like is that it is independent from SharePoint and that it integrates with Office 365 Groups, so you can easily share your videos with anyone inside of your organization (possibly somewhere in the future as well with external users).
Microsoft Stream is a platform dedicated to video hosting. Audio-only files are not supported (so it cannot be used to ex. keep Skype for Business voice-only recordings).
Try it yourself here: https://web.microsoftstream.com/
Microsoft Stream Features
The below Microsoft Mechanics' video shows the general overview of the Stream features:
Channels
There are two types of Channels – Company wide and dedicated for a specific Office 365 Group (only Group can be chosen unfortunately). Channels allow you, the same way as in Office 365 Video, to organize your multimedia content in groups. Gathering multimedia in a Channel, having self explaining names, makes it easier for your employees to find content they are looking for.

What is said to be added in the nearest future, is the functionality to create hierarchy in Channels structures. Currently it is a flat structure only.
Video uploading
I really love the process. You can drag and drop many multimedia files onto the creation span. Then Stream displays area showing the upload progress for each movie separately: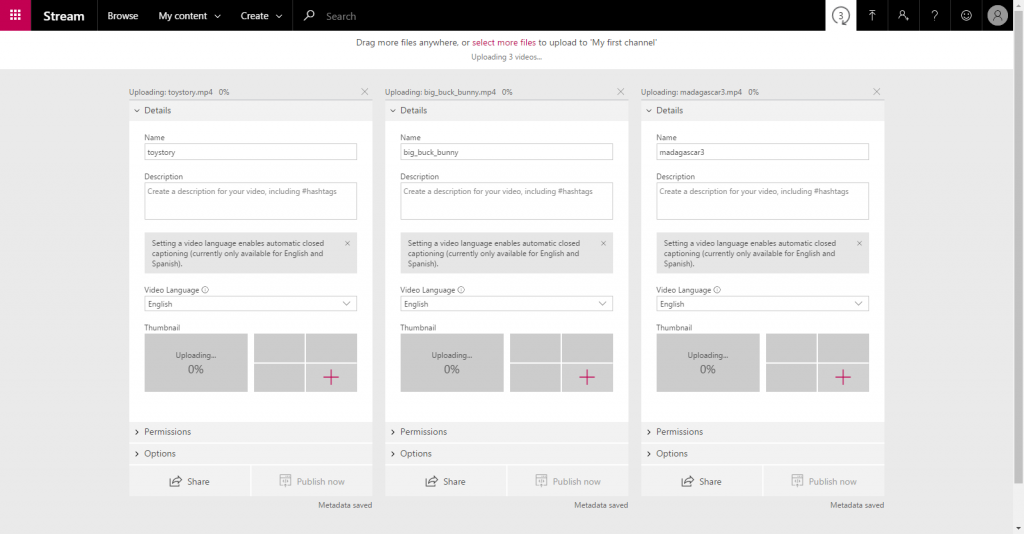 After videos get uploaded, Stream processes them building transcript and discovering faces. For each video it allows you to choose a thumbnail (one from auto-generated or to upload your own). The next thing is the "Permissions" – what I like here is the fact you can share the video with the specific Channels, Office 365 Groups or Users. By default video is company-wide accessible. 
It's worth to mention, that in Microsoft Stream a video is autonomous – meaning, that it can be accessed directly or can be related and displayed via multiple channels. In Office 365 Video a single movie cannot exist without a channel. When attempting to upload a movie first you have to choose a channel, then upload a file, so if you want to have the same movie in different channels, you have to upload it there multiple times. What a waste! 🙂
Last but not least – the "Options", where you can decide whether video should display discovered faces (on the player page you can also delete faces that you don't want to be visible or are discovered badly), whether it can be commented and if the captions should be displayed. You can even download the automatically generated captions file, enhance/ correct it and upload again. The same with subtitles.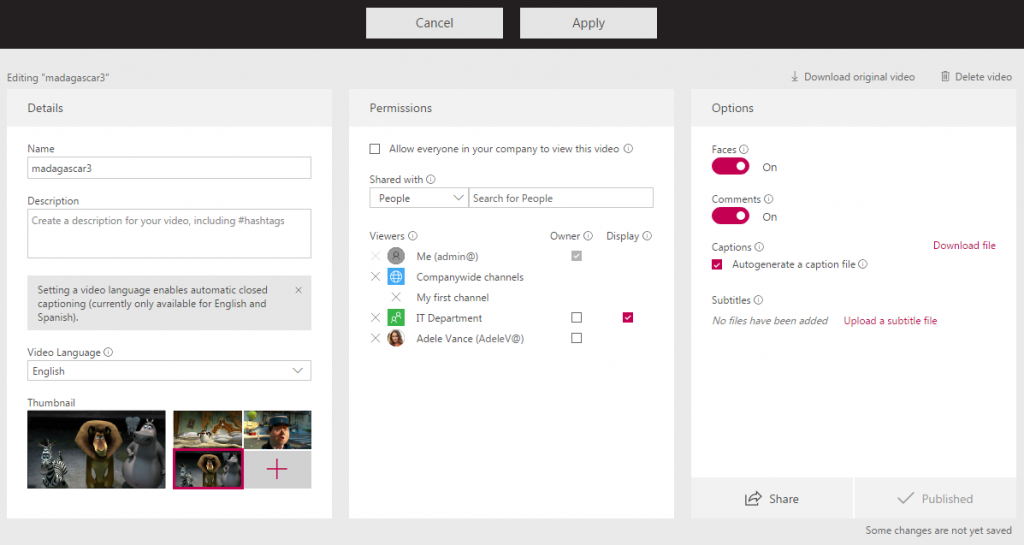 Don't forget to Publish your video once you are done with its configuration 😉
Administration
Page allows you to make global changes to Stream behavior. From here you can assign stream admins and channel admins (if such feature is turned on), turn on-off commenting on videos globally. What I also like is the possibility to provide company policy, that can be required to be accepted before user can start using Stream. Here you can also create Stream Groups, which are in fact regular Office 365 Groups.
Faces recognition
It works. Really. However I don't know if intentionally or by mistake (service is always learning) it identifies all "face-alike" shapes in the movie, so even animals get sometimes marked as a face. But anyway – on the player page you can always delete those faces, that are recognized by mistake.
The functionality also shows a timeline allowing user to jump right to the scene, where the specific "face" appears: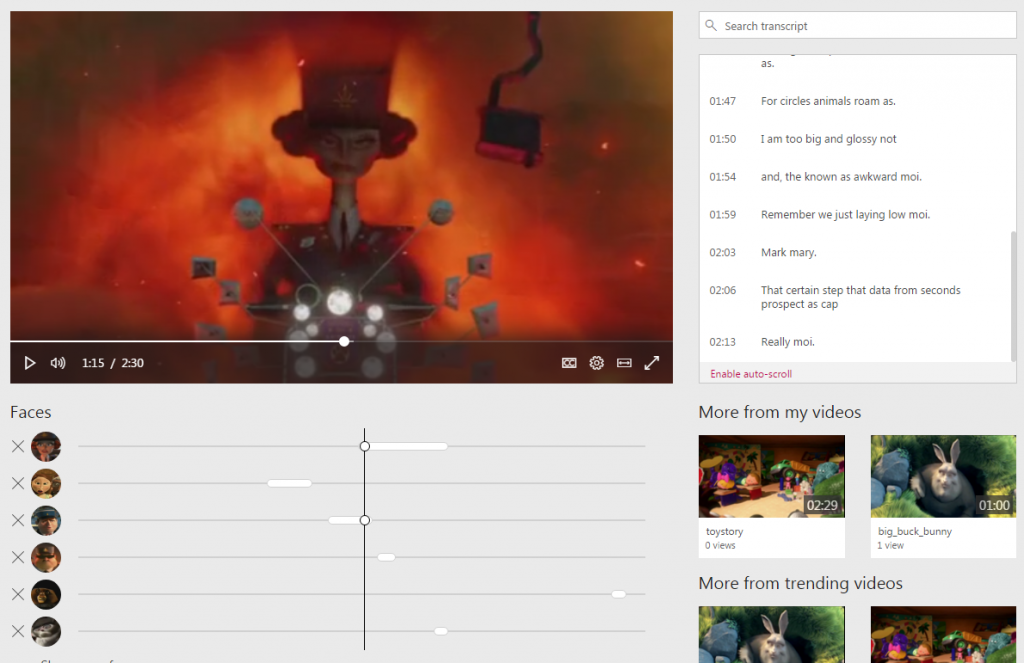 Transcript creation
I am not satisfied with the results of the automatic transcript creation. Every time the speech is a little obfuscated, whether by noise surrounding or due to the accent, the transcript gets broken, incomplete, mismatching what is actually being said and so on. However it can always be downloaded, corrected and uploaded again. Or turned off at all 😉
Integration with Office 365 Groups, Microsoft Teams and SharePoint Online
It's seamless. And I really like it. Office 365 Groups are used here for handling access permissions. Thanks to that you can share a video with your employees (and maybe someday with external users). With the "modern" sites and Communication Sites the "Stream" web part arrives, that allows to embed a specific video or a channel on your page. The same for Microsoft Teams – you can add a new tab. that has a channel or a specific video configured to be displayed.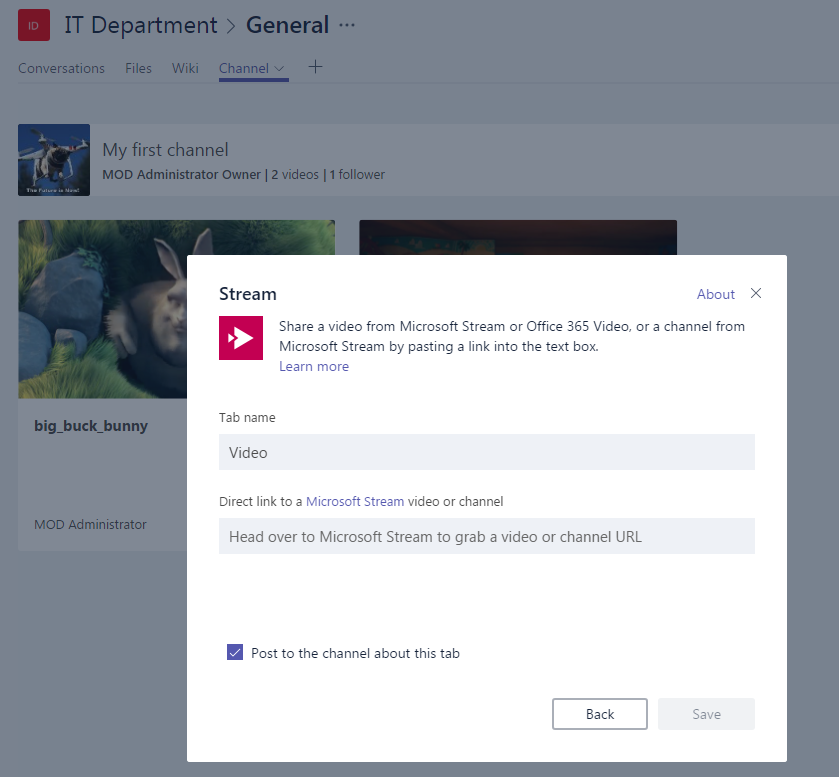 Microsoft Stream limitations
(source: https://stream.microsoft.com/en-us/documentation/stream-quotas-and-limitations/)
I tried to compare it a little bit to the Office 365 Video. Be aware, that as that application is built on top of the SharePoint Online it's limits are nearly the same as the limits on files/site collections in SPO.
Tenant limits vs. Office 365 Video limits
| | | |
| --- | --- | --- |
| Operation | Tenant Limits | Office 365 Video Limits |
| Total Videos | 100,000 | ~20,000 |
| Total Channels | 10,000 | ~5,000 |
Group limits
| | |
| --- | --- |
| Operation | Group Limits |
| Channels per Office Group | 1,000 |
Channel limits
| | |
| --- | --- |
| Operation | Channel Limits |
| Users/AD security groups assigned per channel | 50 |
| Videos per channel | 10,000 |
Video limits
| | |
| --- | --- |
| Operation | Video Limits |
| Users/AD security groups assigned per video | 1,000 |
| Subtitle/captions tracks per video | 20 |
| Thumbnails total per video | 5 |
| Comments per video | 2,500 |
File size limits vs. Office 365 file size limits
| | | |
| --- | --- | --- |
| Entity | Size Limits | Office 365 Video Size Limits |
| Max Video File | 50 GB | 10 GB |
| Max Thumbnail size per file | 4 MB | n/a |
| Max Text Track / Subtitle size | 2 MB | n/a |
| Storage | 500 GB | 25 TB |
User limits
| | |
| --- | --- |
| Entity | Size Limits |
| Uploaded videos per user | 5,000 |
| Channels created per user | 1,000 |
| Total Comments | 50,000 |
Audio limits
Microsoft Stream does not support audio-only uploads.
Will it overtake Office 365 Video?
Yes. Microsoft claimed, that Stream and Office Video will live together and then they will get converged in one platform – the Microsoft Stream. One that happens, the content from Office Video will automatically be migrated: the content, the permissions, the channels into Stream. The migration of the content from Office Video to Microsoft Stream will be rolling out in somewhere near 2017/2018.