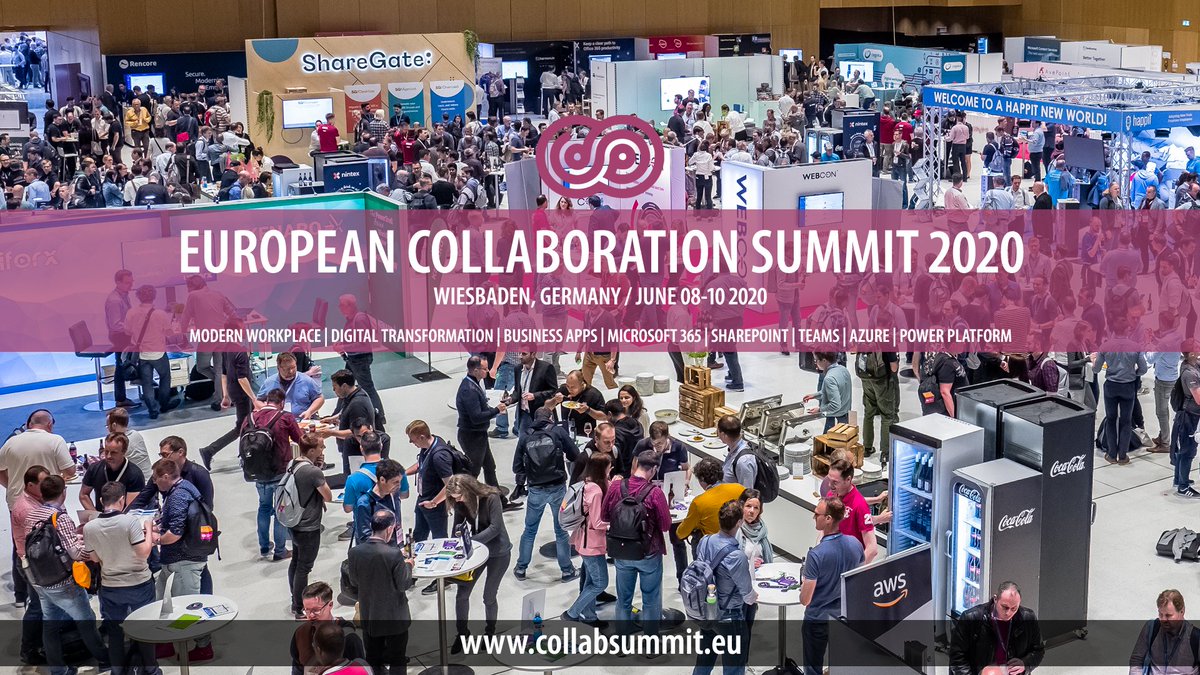 I'm speaking at Collaboration Summit 2020!
This post is not as the others. It's not going to be technical. It's not going to be about specific products or functionalities. It is going to be about me and my journey to where I am today, as a Microsoft MVP.
2017
Back in 2017 I was still Atos employee. Although I was working with SharePoint for over 6 years back then, with business processes a little over a year (mostly SharePoint Designer and as analyst), I was not courage enough to start really sharing my knowledge with the Community, although all my friends were really encouraging me to do that.
I was already a member of Nintex Community forum, where I was spending every moment free from regular work, where I was trying to help every user to solve their issues. It was extremely appreciative work, I was enjoying helping very much, I got a high rank and became a really recognizable member of that community. In return to all my efforts I was awarder with Nintex vTE title (which is something like Microsoft MVP).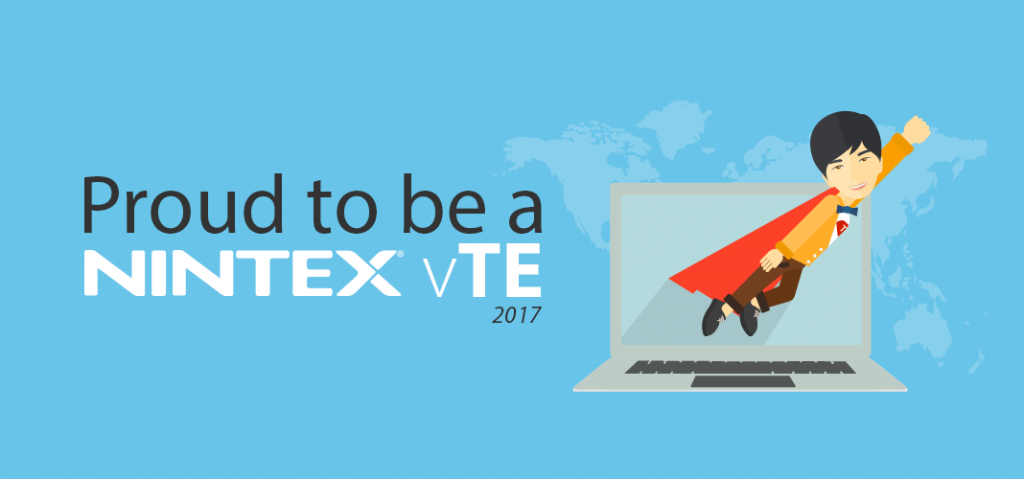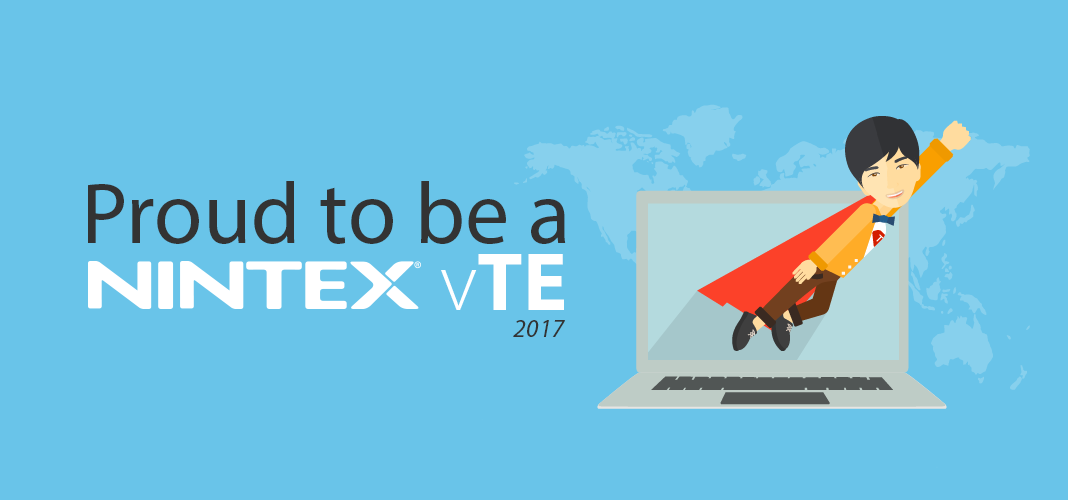 Back then I was already thinking about writing my own blog, but what was holding me back was just myself. I did write couple of articles on Nintex Community forum, nevertheless I was just seeking excuses not to start writing my own while trying to explain myself, that I will not find topics to cover and that blog will become dead fast. However – I created my Twitter account. And that was a step forward 🙂
Anyway, I was in the middle of a project, where we had to migrate data from SharePoint on-premise to Office 365. The project was going extremely well, that good that my manager let me to choose two events to attend, 100% covered by the company. One of them was Collaboration Summit 2017.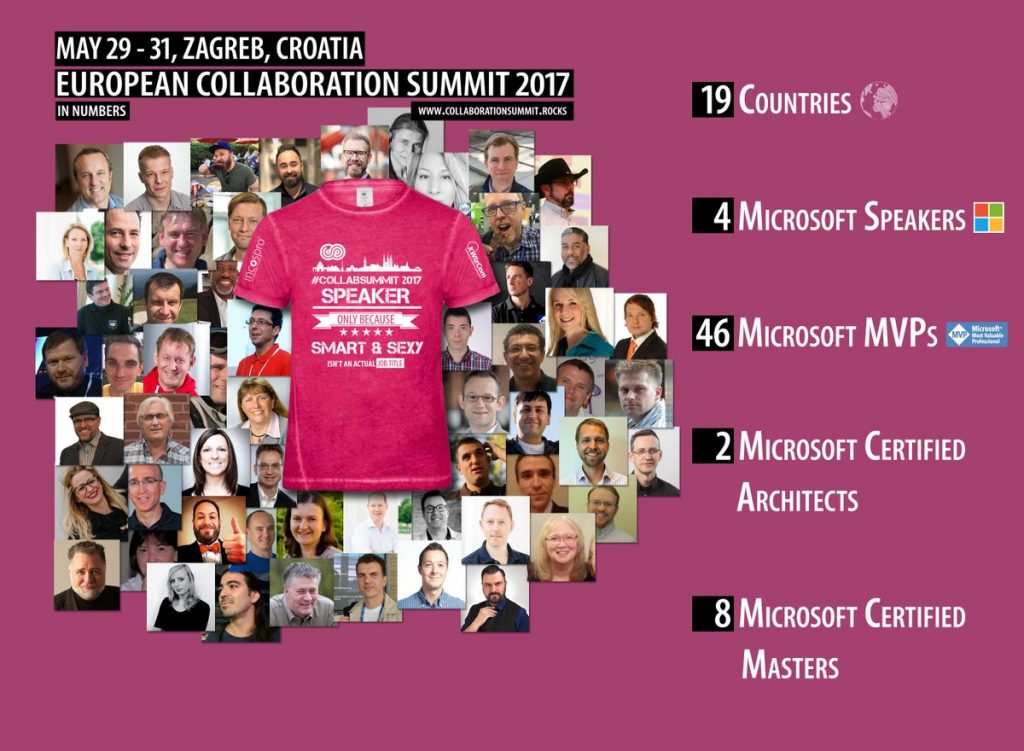 Just a funny fact – when I was looking for events and found Collaboration Summit for unknown reason I was thinking it is taking place in Dubrovnik. I was therefore even more excited about going there, because I was expecting sea, warm temperatures – holiday atmosphere 🙂 Then I found out it was actually in Zagreb, but I was nevertheless very much happy about going to Croatia.
At that time I had no idea, this conference will be such a life-changer for me…
Collaboration Summit 2017
And I arrived in Zagreb. It was warm. I was staying in the city center whereas all speakers were in the hotel at the venue. That was first lesson I learnt – next time stay close to the venue.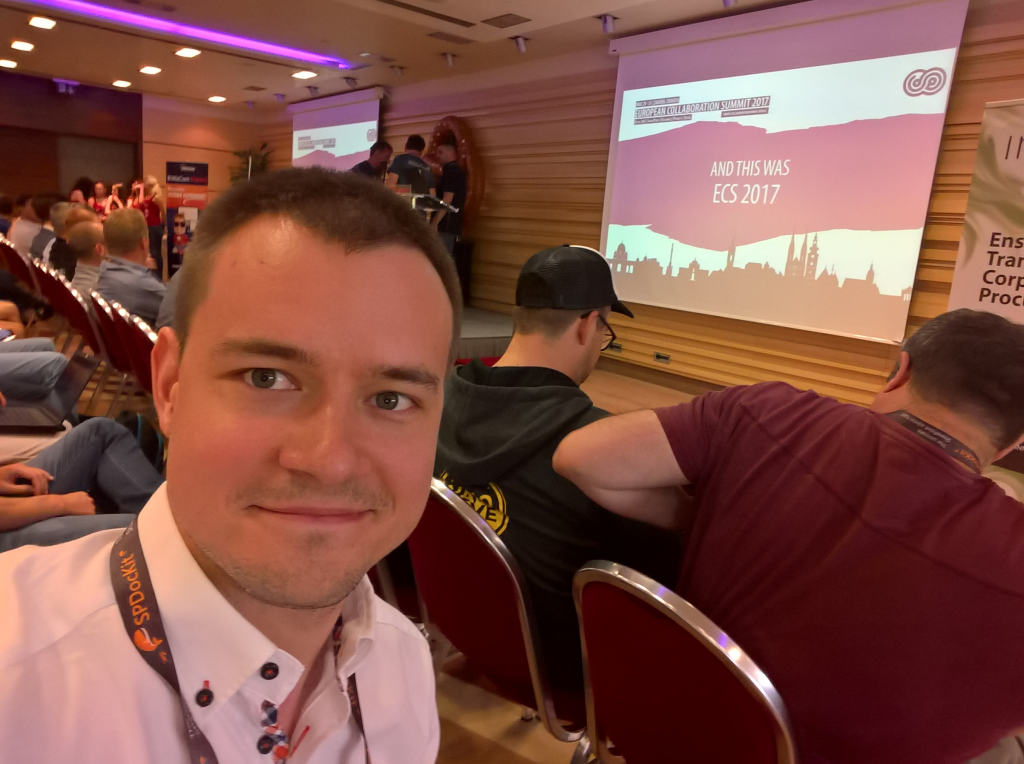 In 2017 I was extremely trying to stay in my comfort zone. I was kind of a shy introvert and I was considering all the speakers and MVPs as a kind of gods, to which only some are allowed to speak. I then learnt, I was not the only one…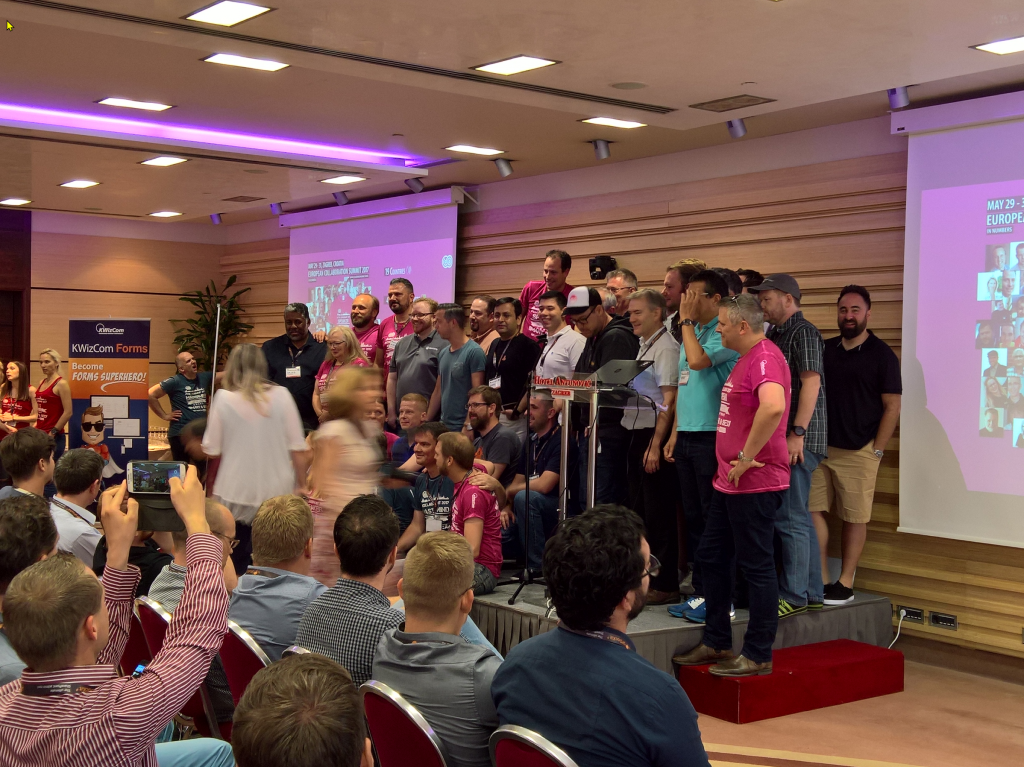 At the conference I met my old team mate who was working then for Predica. I also met, for the first time, our future, Polish MVP – Michał Guzowski. I remember we had couple of conversations about technology, not particulary about Power Platform yet. I also met Tomislav Karafilov – one of the most active Twitter users at that time and who even had his own beer! 😀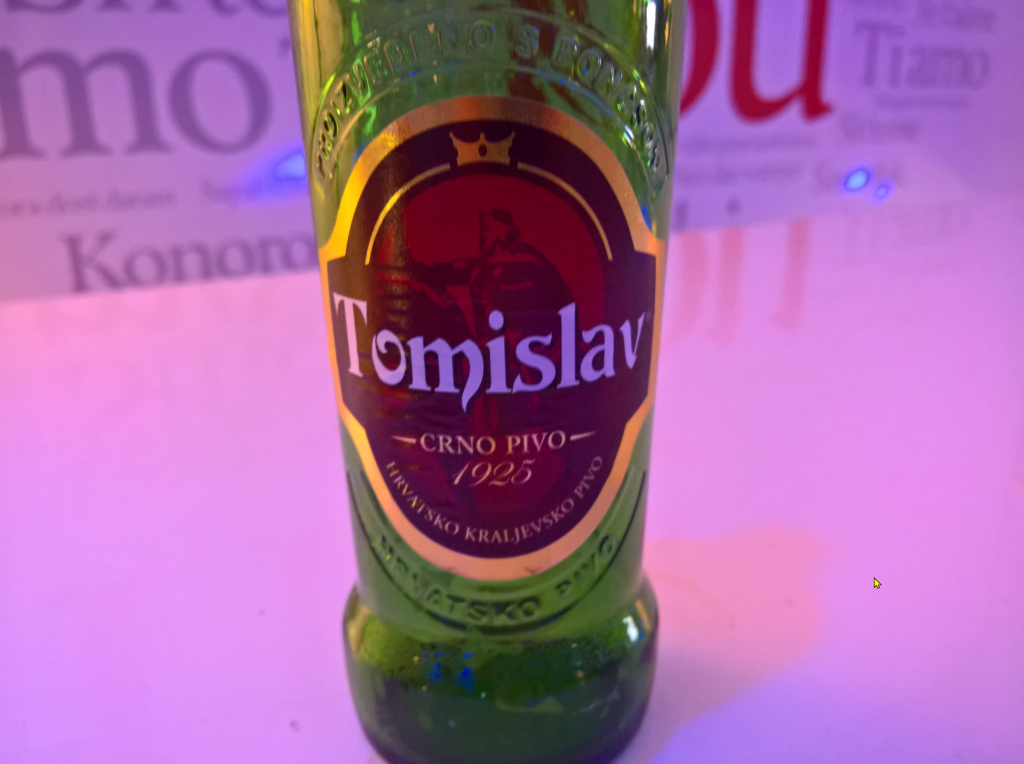 Another important life crossroads was meeting of Edyta Gorzon, who was working back then for Webcon and that company was one of the major sponsors of the event.
On of the sessions that made the biggest impact on me was Jussi Mori's about user adoption of IT. At that time I had couple of projects where I was managing creation and deployment of SharePoint based intranets. There were more on the horizont. And I was looking for tools to help me do the adoption of the new software successfully.
After the last day I went back to hotel, grabbed a beer and… started writing my recap of the conference. And right after – my summary and thoughts on user adoption in SharePoint and Office 365.
When I got back to Warsaw, I started my own blog (the same you are on right now) and published my work and articles I have written so far.
What happend next?
Starting with my blog was a first step out of the comfort zone. I rapidly realized that topics are just there – in my everyday job. What I also realized, was that very often things really easy for me were extremely unique and deserved by other users, who were seeking for answers to a very basic questions. So I started writing about anything, that I found useful for others, breakthrough (like my findings), or just interesting enough to add to my blog. Ever since I never was complaining about a lack of topics to write about. And this is a third year!
I kept staying in contact with Michał. In 2018 I started organization of Nintex & Office 365 User Group meetings in Warsaw and he helped me as a speaker. I started believing in myself and that I do deliver value to the Community.
However! I still was thinking about speakers and MVPs as of gods 😉
In 2018 I attended for the second time SPS Warsaw conference. That year I was already doing much with Flow (aka Power Automate) and I also did a really outstanding integration between Facebook Worksplace and SharePoint using Flow. One of the sessions was keynote by Jon Levesque and Ahmad Najjar. At the end Jon asked audience about any interesting use cases and in return he promised a Flow Button. I WANTED IT SOO BADLY! That was like a lightstrike. I just stood up and started describing my solution. I nearly lost my breath, but that was it! I understood I want to become a speaker. During the SharePint I also realized, speakers and MVPs are not gods and anyone can talk to them 🙂
Later that year Edyta Gorzon reached me out. She said, she read my article about user adoption and would like to talk. During the meeting she asked me to join the SPS Warsaw organizers team. Without a second thought I said "yes"! And together with Marcin Siewnicki we did an awesome event in 2019!
In 2018 I also did my first public speaking in Oslo.
2019
That year was a blast. I was a a speaker at more than 20 conferences. Visited over 10 countries. Did huge number of contributions for the community.
My 2019 in numbers:

MVP award received! 😍
🗓️ 1 event organized
📢 22 speaking sessions at conferences
🎙️ 7 screencasts
👨‍💻 27 blog posts (each 🇬🇧 and 🇵🇱)
🗺️ Over 10 countries visited!

This year was a breakthrough! Thank you @EdytaGorzon for all the support! 🥳#CommunityRocks

— Tomasz Poszytek, MVP #PowerAddict @SS2020 🇬🇧 (@TomaszPoszytek) December 31, 2019
It was one, great adventure, in which I had a constant support from the people I call "the crew": Edyta, Luise and Robert (and my Marta 😘). In June Luise decided to nominate me for the MVP award and… my dreams came true in November. All the work I was doing found appreciation at Microsoft and I was awarded MVP in Business Applications category: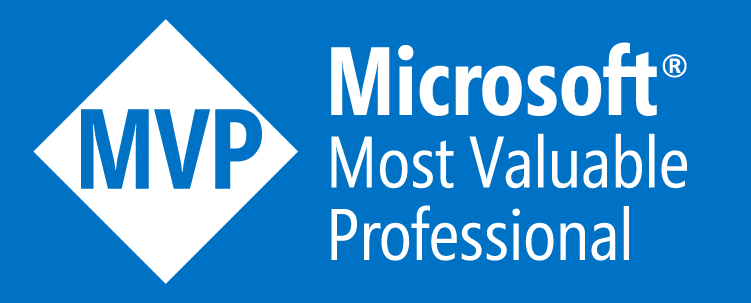 Thank you to all who helped me get to that point!
Sentimental journey to Collaboration Summit
I am returning to Collaboration Summit every year. I was in 2018 when Adis Jugo moved it to Mainz. And in 2019 when it was moved to Wiesbaden. I will be there as well this year, but in a different role – SPEAKER!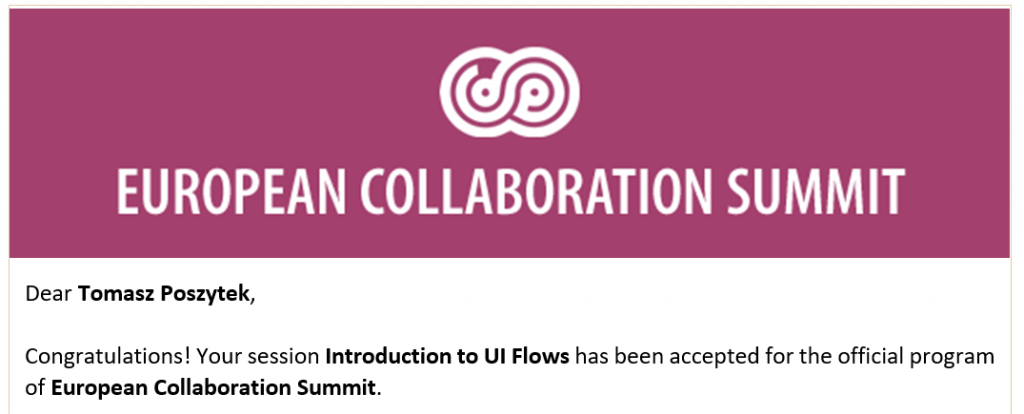 For me this is more than just another speaking, that I did over 20 in last years (not that much though, but it gives great experience anyway!). This is like returning to the roots. To the place where it all started. It is kind of a sentimental journey. Me, who was a shy introvert, stuck in my comfort zone, will be returning as an international, (still little known) public speaker and Microsoft MVP.
All the things that happened over the last 3 years in my professional life were somehow initiated in Zagreb, May 2017. Adis, thank you extremely much for the given opportunity. I am unspeakably happy and thankful for the possibility to be a speaker at this iconic conference.
See you all in June, 24th week of the year, Wiesbaden, at the 2020 edition of the Collaboration Summit conference. Find me, talk to me, let's have a beer! And remember – speakers are not gods. We are just regular people 😉